£
Birmingham
01564 822224
Omnia Dental Spa

I would highly recommend Omina to anyone. Every time I go it's always a happy and friendly environment. I would never go anywhere else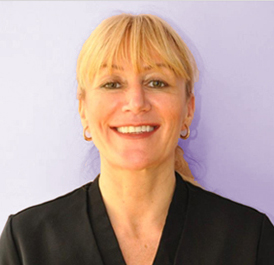 Lisa Bolton
RDN, NEBDN, 1994. RDH, 2001(UK)
Dental Hygienist
GDC No: 5792
I initially qualified as a Dental Nurse, having attained the National Certificate for Dental Nurses and The Birmingham Dental Hospital Certificate for Dental Nurses in 1994. I then gained my University of Nottingham Oral Health Promotion certificate in 1998. I went on to do my CEBDH Diploma in Dental Hygiene at Kings College Hospital Hygiene School and qualified in 2001. In addition, I have also successfully completed the Kings College Radiography Module and BTEC Promotion of Oral Health Certificate.
Since qualifying as a Dental Hygienist I have worked in a number of private and NHS dental practices on a self-employed basis gaining valuable experience in patient care and monitoring and motivating patients in oral hygiene techniques. I have also attended various postgraduate courses including the placement of temporary dressings, re-cementing crowns, administering local anaesthetics and impression taking.
I joined Omnia Dental Spa in August 2001 and I thoroughly enjoy working with all the team. I have worked with some of the Omnia girls previously, and we are all part of one big happy family which hopefully comes across to our patients.
I am keen to keep up to date with latest developments and techniques in the Dental Hygienist profession and therefore regularly attend Continuing Professional Development courses.
In my spare time I like to exercise to keep fit and healthy. I particularly enjoy running, using free weights and completing various exercise DVDs. I am currently also learning to play the guitar.
At home I enjoy spending valuable quality time withmy son Lewis and our little West Highland Terrier – Jessie. We love going for long walks and watching movies together.